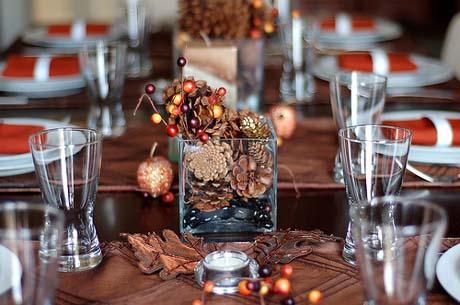 Hosting An Elegant Thanksgiving Dinner On A Budget
Preparations For Thanksgiving:
Take inventory of your silverware and place settings at least a week before dinner.  I always say that it is best to check what silverware and place settings you have in advanced before any dinner or party so there aren't any surprises the day of.  If you are short on place settings, have fun with it the problem and change your perfectly matched table settings into a mix of all your pieces.  This brings uniqueness and fun to the table.
Compare weekly supermarket circulars.  Now is the time to start comparing the supermarket circulars to see what sales will or currently are going to ensure you the best price for the products you will need for the big day.
Start collecting coupons ASAP.  Clip and collect coupons that are all Thanksgiving Day dinner related.  This ranges anywhere from food to decor.
Get an accurate number of your guests.  This is good idea for when you set out to shop for the dinner.
Make 2 specific lists of what you will need, supermarket & master checklist.  The first list will consist of your supermarket needs.  Write out a shopping list so when you get to the supermarket you can get in and out without any impulse buying.  The second list will consist of everything you will need to do before Thanksgiving day.  This will be a master checklist of everything that needs to be done  including anything you would like to clean, decorate, and other.
Set a realistic budget and stick to it.  The turkey can be one of the priciest parts of the whole meal.  When shopping for this dinner, purchase a store brand or "generic" named turkey (with a coupon if possible).
Make a little less and save a little more.  Buy and cook the appropriate amount of food for your guests without over buying, over cooking and wasting.  Purchase a turkey that is big enough to feed all of your guests without leaving too much left over.  This will help cut costs on the turkey and will stop you from being wasteful with the leftovers if no one eats them.
Start cleaning your home now.  Don't wait until a few days before because you will already have enough to do.  Put aside one night after work to clean.  From there, it will be easier to maintain your home up until Thanksgiving day.
Do not be afraid to ask for a little help.  It is okay to ask your family to get a little involved to help you with preparing your home for the dinner.  This could be as simple as asking you kids to clean up their rooms or having them decorate your home.
 The Meal: 
Keep it simple.  Simplicity is key when making a huge meal for a lot of people.  Who cares if you make a few dishes that are microwave friendly.  These are not only time cutting solutions, but they taste just as good.  Instant mash potatoes, couscous, corn, and other broccoli are just a few of my favorite microwavable dishes.
Plan the menu ahead of time. Plan your meal way in advanced.  Remember that a large meal such as this one is not really a good time to "day of" experiment with new dishes unless you have done a test run first days before.
Canned and frozen vs. Fresh and from scratch.  Canned and frozen foods do cut time in half.  Fresh and from scratch foods are a little more time consuming.  If you feel like you have the time, go for fresh.  Either way, I am sure dinner will be just as fabulous.
Dessert:
Offer a "serve yourself " dessert buffet.  Why not set up a dessert buffet to cut your host or hostess job in half at dessert time?  You can have an ice cream bar with a bunch of different toppings, cookies on a tray, serve yourself pies, and other fun and simple desserts your guests can serve themselves.
Dessert potluck.  Another fun option is a dessert potluck. Inform all your guests and family members attending dinner to make or bring one small dessert to add to the potluck.  That is a fun way to feature diverse desserts.
.
Decor for the Home and the Table:
Do It Yourself decor.  Pinterest is one of the best places to find easy DIY ideas for home decor projects and table settings.  You can get the family involved by finding small projects that you can all do together and later use the finished products as home decor.
Go outside for decor if it's available to you.  If it hasn't snowed or rained and there are leaves on the ground, go for it!  Pine cones and colorful falls leaves make for perfect fall centerpieces and the best part, they're free!  Note* If you plan on using leaves from outside, they should be picked no sooner then the night before, if not the morning of the dinner to avoid them from trying out.  Spray each leaf with hairspray to keep their shape to avoid them from curling.  Gently place a light book on top to keep them flat.
Candles, candles, candles.  In a previous post that I had featured entitled "Entertaining on a budget: Dinner Parties", I explained why and how candles are one of the most in expensive and fun centerpieces you can have.  They are super easy and give a punch of color to a table setting without the fuss.  To check out that post for other entertaining ideas, click here!
Shop the sales.You can also look to stores like Home Goods, TJ Max,craft stores, even dollar stores, for a great selection of affordable decor.  Usually stores will have a last minute holiday sale about a week before the actual holiday so keep your eyes open for them.